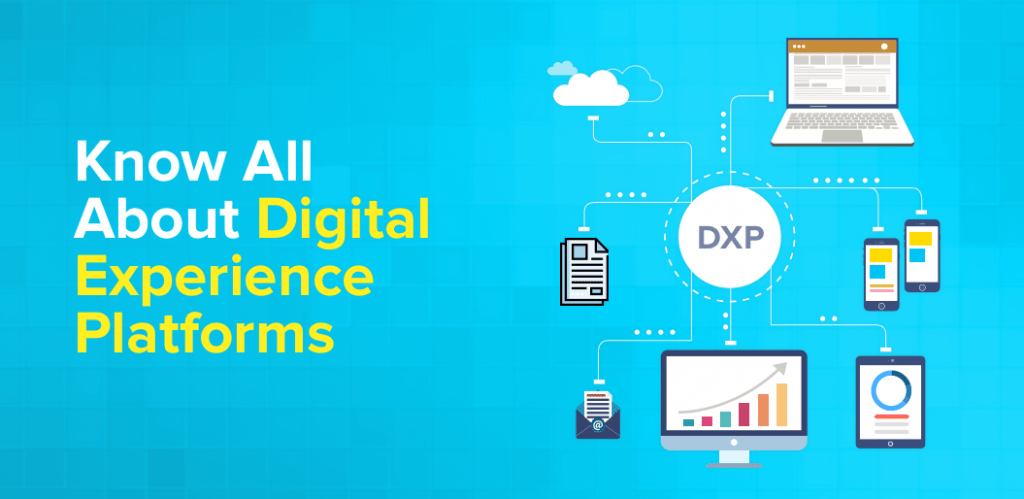 What is a Digital Experience Platform?
A digital experience platform is a next-generation content management system (CMS) that tracks the customer journey of activities, behaviors, interactions and locations throughout the entire lifecycle of a purchase.
It enables brands to deliver targeted content and highly personalized and compelling experiences based on customer profiles across a broad range of digital touchpoints.
History at a Glance: The Evolution From CMS to DXP
It's not at all a stretch to say DXPs are doing for every other customer touchpoint — including physical retail stores — what content management systems did for brochures and websites beginning more than 20 years ago.
The common thread is the intent has always been to maximize every customer's user experience by anticipating each customer's expectations. The difference is the technologies and the competition have evolved by orders of magnitude. And the best part is that DXPs continue to evolve and improve to better meet marketers' needs. Here's how DXPs came to be:
1. Content management systems (CMS).
As the name indicates, content management systems help businesses manage content primarily on desktop computers and mobile devices.
They enable multiple users in an organization to manage, create and track written content, images and videos while providing version control and management. This makes it easy for brands to maintain consistency of voice and content across their online domains.
2. Web experience management (WEM).
As new customer channels were born, WEMs introduced cross-channel functionality for content and data.
At the same time, WEMs are enabling brands' disparate business units to share information digitally.
WEMs also give brands greater visibility into user behavior, the ability to specifically define consumer personas and make content more consistent across all in-person and digital channels.
Most important: they enable companies to automatically generate tailored, personalized, cross-channel communications to each customer.
3. Digital experience platform (DXP).
DXP was one of the first platforms to fully integrate multi-channel marketing experiences.
DXP allows businesses to deliver content to touchpoints everywhere, including advertisements online, in-store, at a kiosk or in an ecommerce system.
Leveraging artificial intelligence (AI) and machine learning (ML), a DXP processes and analyzes consumers' search, browsing and purchasing histories along with their social media interactions, location and demographics. It can anticipate what they're interested in purchasing – and then deliver relevant content and opportunities to them when they're ready to make a decision.
A DXP goes a step further than a CMS or WEM by helping a brand produce digital experiences across websites, apps, portals, IoT devices and more.
Here's the Gartner Research definition: DXP is "an integrated set of technologies, based on a common platform, that provides a broad range of audiences with consistent, secure and personalized access to information and applications across many digital touchpoints."
Benefits of Using DXPs
The primary reason brands use digital experience platforms is to deliver richer, more personalized experiences with uniform consistency in their customer engagement initiatives.
DXPs also offer the following benefits:
1. Better touchpoints.
DXPs enable brands to deliver content to touchpoints across online and in-person platforms.
With the number of touchpoints only continuing to expand beyond web, mobile, chatbots, voice assistants, customer portals and kiosks, DXPs can scale to reach them, too.
That's an important point, because brands will need to deliver consistent experiences wherever their customers go. According to a survey conducted by Aspect Software, businesses that adopt omni-channel strategies achieve 91 percent greater year-over-year customer retention rates compared to businesses that don't.
2. More business control.
DXPs are designed to integrate with a brand's marketing, commerce and customer support platforms along with other solutions in real-time.
Leveraging the flexibility of APIs, a DXP can collect and orchestrate all relevant incoming and stored data to deliver the right content and experience to every customer touchpoint. The result: Brands have more control in the way they interact with their customers.
3. An intelligent architecture.
What makes DXPs function so effectively is the flexibility and agility a microservices – also known as the microservice architecture – offers. Microservices is an architectural style that structures an application as a collection of services that are:
Highly maintainable and testable
Loosely coupled
Independently deployable
Organized around business capabilities.
The microservice architecture enables the continuous delivery/deployment of large, complex applications, which enables an organization to evolve its technology stack.
This means developers on the back end and marketers on the front end can independently make necessary changes and improvements to different parts of the platform without affecting any other part of the store.
4. AI power.
The artificial intelligence built into DXPs provides brands with actionable insights across the entire digital customer experience at every touchpoint.
AI can discover information hidden deep within massive amounts of data, helping visitors find the information they want when they want it.
5. Personalization for customers.
AI also powers the kind of personalization at scale that drives customer loyalty, providing every user with an experience tailored just for them.
Contextual personalization takes into account every customer action to learn their patterns so that brands can consistently and automatically improve the customer experience at every touchpoint.
The intelligent use of customer data helps businesses target the right shoppers at the right time in the customer life cycle.
3 Types of DXPs
Not all DXPs are alike. Digital experience platforms emerged over time from three different types of systems based on an organization's specific use cases. There are three basic types of DXPs:
1. CMS DXPs.
Today's creative agencies such as marketing and advertising firms involved in B2C initiatives need more capabilities than a basic CMS can provide.
CMS DXPs offer analytics and persona-based segmentation for pre-purchase consumer-facing endeavors such as customer acquisition, demand generation, accelerating the sales funnel and delivering personalized promotions.
2. Portal DXPs.
These platforms are designed primarily for B2Bs and B2Cs in fintech and manufacturing for post-sale CRM and customer-support initiatives focused on loyalty, retention and renewal.
They can also integrate with corporate intranet portals to leverage the support of partners and suppliers. Portal DXPs generally encompass features such as CMS, mobile support, workflow automation and mobile support in addition to front-end presentation.
3. Commercial DXPs.
These are platforms primarily used by retail brands to push promotional content to their e-commerce websites.
Commercial DXPs provide pre-purchase, fulfillment and product return initiatives as well as shopping carts, payment and inventory management.
Should You Be Using a DXP?
Businesses that need a DXP have multiple touchpoints, a diverse audience, are undergoing a digital transformation, use digital as a main driver of their business and would benefit from delivering a fully connected experience to their customers.
Following are some questions to ask if you're wondering about incorporating a digital experience platform:
1. How many touchpoints do you have?
If you have several digital and in-store touchpoints, a DXP can save your brand a lot of time, effort and energy.
2. Are you mainly digital?
DXPs work for online businesses regardless if they have a retail store or not.
3. Do you reach a diverse audience?
With multiple, disparate touchpoints, it may be smart to use a DXP to segment your customers and reach them where they want to be reached.
4. What does your environment look like now?
The first indication that a DXP may be right for you is if you have multiple back-end systems that are siloed and not integrated with each other.
5. Do your marketers wish they could deliver highly differentiated customer experiences?
If the answer is yes, then a DXP is probably a good fit.
How to Start Your DXP Strategy
If you think a DXP is the right system for your organization and you're at an appropriate stage in your digital transformation, then the first thing you need to do is to build your e-commerce website.
A website will be one of your most active touchpoints and therefore the strongest foundation of your DXP.
Next, determine what the best DXP is for your customers. Based on the descriptions above, is it a CMS, portal or commercial DXP?
Find the right DXP that works with the business of your size, your touchpoints and your specific needs. Then begin integrating your business with your DXP.
Be Aware of These DXP Trends
Fueled by customer demand and continuing development of AI and ML, contextual experiences and personalized content continue to make big inroads for brands seeking to broaden their reach.
Momentum for DXPs will only increase, and the following five areas are important to be aware of for all marketers in the next year:
1. Voice in user interfaces will rapidly evolve.
"Smart speakers" is a space that isn't close to being mastered yet. Brands that can do that well will have a leg up on their competitors.
Consumers want voice-assisted interactions in their searches, but not ones that are gratuitous and provide little value.
Developers are working hard to create content that caters to human speech patterns, and this type of interactivity will shake up UI design – especially with mobile apps and systems.
2. It's time to go AI-first.
It can't be argued that AI can deliver profound insights and offer accurate predictions via data analytics.
But companies need to have stronger trust in what AI can do in terms of identifying the smartest actions based on the data it processes and analyzes. We're already seeing this type of activity with algorithms dominating search engine optimization (SEO).
Going AI-first needs heavy lifting, but it will be well worth it. After all, the ideal scenario for brands is to predict what customers want at a specific moment in time and then direct them there right in the moment.
3. Customer privacy is more important than ever.
Ever since the General Data Protection Regulation (GDPR) was enacted, the ways that organizations handle customer privacy have undergone an enormous change.
It's hardly a marketing issue, either. Every department – including lead generation, sales, customer support and human relations – requires changes in data policy.
Customers need to trust that brands respect and protect their privacy. That alone is a huge competitive advantage.
4. Being flexible will take you to the top.
Successfully adapting to change and striving to be future-proof will always be business constants.
The latest, largest changes affecting the business world have been the move to the cloud and the adoption of microservices. Both innovations deliver greater agility and scalability for systems and processes.
They're also purpose-built to take advantage of new business necessities such as AI, data analytics and voice technologies.
5. Digitally integrated businesses are future-proof.
Connected data is the key to future success for all businesses.
A connected, modular approach streamlines workflows and processes across all departments and tools.
It also delivers greater visibility into how the work of each department impacts the others and the company as a whole while offering a more cohesive customer experience across every touchpoint.
In addition, pairing your DXP with a marketing automation platform makes it easy to market to customers without the need for constant moderation.
Executive Summary: DXPs are the Logical Next Step in Your Digital Transformation
It's a digital world now, and there's no turning back. From a marketing standpoint, that's a good thing, because digital innovations are connecting brands with consumers in ways we couldn't even manage just a few years ago.
And that's what matters most to both sides.
Businesses want to tap into what their customers want as granularly as possible and then provide what they want in as seamless, easy – and satisfying – way as possible.
Consumers want to make smart – sometimes impulsive – decisions quickly and easily, and they want an elevated experience as they search for goods and services that can positively impact their lives.
Digital experience platforms are replacing one-dimensional web content management systems for that very reason. Regardless of where businesses are in their digital transformation now, at some point in the future they'll need to consider implementing one to meet their business goals.